Please follow and like us:
Google is preparing a new sync feature relating to connectivity across Android devices linked to a single account, claims an Android specialist.
Apple's current Continuity function enables customers to receive calls from their iPhones on their Macs and iPads as long as they are connected to the same network.
Features like Call Switching and Internet Sharing are only available if your Android devices are signed into the same Google account.
The former is a simple approach to allow your additional Android devices to share the network connection from your primary smartphone. At the same time, the latter is pretty self-explanatory, similar to how a mobile hotspot would.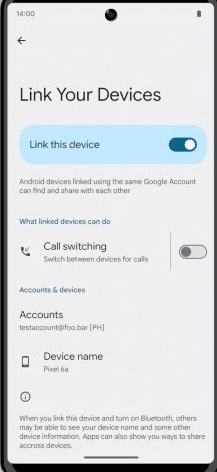 Contrary to Apple's solution, which doesn't allow users to switch calls between their iPhones, the screenshot suggests that the call-switching capability will operate across different Android phones.
However, Google has not publicly made any formal announcement associated with the plans for such a feature. This was a pretty suggestion by Mishaal Rahman, according to GSMArena, that the "Link Your Device" feature will be included in the Settings > Google > Devices & Sharing sub-menu.
What Sync?
Sync is an abbreviation of Synchronize. It helps organize your device with Google and other services you are signed into. When your device is synced, it integrates the data from your phone onto the service's servers.
That way, if you change or buy another phone, you can retrieve your contacts and documents to the new phone.
Also, it is a feature on Android phones that allows users to organize their data across multiple devices. This includes contacts, calendar events, emails, photos, music, and other files. It lets users keep their data up-to-date and easily accessible across all devices.
How to Turn On Auto Sync on Your Android Phone
In Settings
Go to "Settings"
Scroll down to "Accounts" or "User & Account" depending on your device
Tap the account you want to auto-sync
Select "Account Sync"
Toggle on each of the apps you want to Auto Sync.
In Chrome
Tap the 3 dots at the right corner of your search bar
Select "Settings"
Select "Sync" or "Google services" depending on your device.
Toggle on "Sync everything" or select what you want to synchronize.
Related Articles
Please follow and like us: