Please follow and like us:
Last week, Infinix announced its partnership with HARMAN's renowned audio and technology brand, JBL, to bring Sound by JBL, a new level of audio excellence, to the Note series line of Infinix smartphones.
This collaboration will see JBL bring its 75-year legacy of acoustic quality and expertise to enhance the overall user experience by delivering an immersive and superior sound quality with the latest tech from both companies.
"We're incredibly excited about our collaboration with the JBL brand here at Infinix," Liang Zhang, Infinix Deputy General Manager, said. "Our hardware expertise combined with JBL's acoustic technology means we can provide an enhanced audio experience to customers worldwide. With a device that delivers upgraded sound quality, we're confident we're in exceeding users' expectations."
Delivering a Superior Sound Quality:
Infinix and JBL will improve the audio hardware on Infinix Note series smartphones to ensure that they provide a high-quality sound experience. This way, users can indulge in crystal-clear audio with precise details, greater depth, enhanced bass and clarity, not minding whether they're using watching videos, playing games, or listening to music.
Immersive Gaming and Multimedia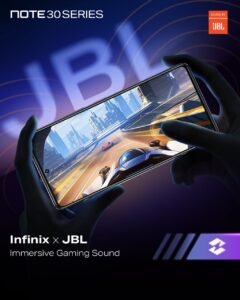 Gamers and multimedia enthusiasts will enjoy an optimised audio experience, thanks to JBL's signature sound that ensures rich bass with well-balanced tones for high-quality audio. With techs such as enhanced spatial audio, 3D surround sound, and improved audio separation featured on the new devices, users will be able to immerse themselves in their favourite games and multimedia content.
Sound Tuning:
No matter the superior quality of audio output, we all have different preferences and love the freedom to customise and tune the audio to our liking. Whether you prefer heavy bass, a more balanced sound, or you want your audio tuned differently, Infinix understands this. So it gives users the freedom to adjust the audio settings to their liking for a satisfying experience.
Design and Aesthetics:
Other than superior audio performance, the Infinix Notes series would feature a sleek and aesthetically pleasing design of its audio systems. Infinix assures users that the Note smartphones will come with careful speaker placements and optimised acoustic chambers to give an excellent audio experience without compromising their aesthetic design.
Beyond Smartphones:
The partnership between Infinix and JBL might extend beyond smartphones. To ensure other Infinix product users get the same superior sound quality heights of experience enjoyed by Note series users, there will be further integration of JBL's audio solutions into Infinix's ecosystem. This way, you will get to experience an enhanced audio system that is second to none across various Infinix devices and accessories.
Please follow and like us: